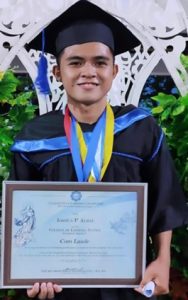 Testimony of Joshua P. Albay
4Ps beneficiary
Top 7th, December 2022 Criminology Licensure Exam (CLE)
ROXAS CITY, Capiz – The sudden death of their mother causes depression, anxiety, and trauma to the whole family members. Sometimes, this kind of trial bonds one family to be closer together or it may pull them apart.
For Joshua, he considered the passing of his mother, Meralyn, a Pantawid grantee, as the greatest challenge he encountered throughout his life.
"We didn't know how to conquer life without her. Mother plays multiple roles in our lives, physically and emotionally, that her sudden death made me almost paralyzed," he said.
But what is the greatest thing that helped the Albay family especially for Joshua to keep going? For him, it is the so-called unity. Every member cooperates to be strong enough to handle their present situation and accept the death of their loved one. This later became the strength of their family. Instead of becoming depressed, the experience became Joshua's motivation to develop into a mature and more responsible son, brother, and member of society.
Just like any other family, the Albay family also struggled in sending their children to school because of financial constraints. The pandemic caused by COVID-19 shaken their finances but they are always thankful of the grants their received from the program.
"Financial problem is the biggest challenge to me during my college days. I am not directly the recipient of a scholarship from our government that's why I am struggling every day with how I can cover the whole expenses of my study," he said.
The financial problem faced by Joshua may have caused a lot of stress but it did not weaken his dedication to completing his education. He even graduated Cum Laude.
Pressure, frustration, tiredness, self-doubt, and fear were the obstacles to Joshua was the ability to succeed, especially during his preparation for taking the Criminology Licensure Examination. Fortunately, all his hard work paid off and he successfully passed the said exam.
Joshua became his family's pride and joy by not only passing the board exam but also becoming one of the top notchers. Joshua ranked 7th in the December 2022 Criminology Licensure Exam (CLE). His success was celebrated by his family, friends, and alma mater.
Joshua's experiences, heartaches, and failures are proof that the road to success is not a straight line. He manifested and achieved his belief that "success is achieving what you desired to be, no matter how rough the situation is. If you want something to achieve, you should work for it as there is no shortcut to success." (Submitted by Municipal Link Meriel L. Aldea, RSW, of Roxas City, Capiz POO)
#BawatBuhayMahalagaSaDSWD