WHAT IS THE SUPPLEMENTARY FEEDING PROGRAM?
The Supplementary Feeding Program is the provision of food, in addition to the regular meals, to currently enrolled day care center children.  This is in the form of hot meals, as recommended by Food and Nutrition Research Institute (FNRI), and served during break time to children in day care center.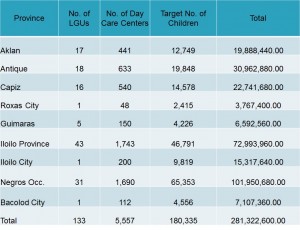 WHO ARE THE BENEFICIARIES?
Beneficiaries of the program are three-year-old and four-year-old children not in the Department of Education pre-school children but in day care.
This program is implemented in response to the 2006 Family Income and Expenditure Survey (FIES) conducted by the National Statistics Office which should that 11 percent of Filipino families had income that cannot buy the food needed by family members for nutritional wel-being and health.  These families can be considered as hungry and food poor.  Along with Pantawid Pamilyang Pilipino Program, KALAHI-CIDSS or Kapit Bisig Laban sa Kahirapan-Comprehensive and Integrated Delivery of Social Services and Sustainable Livelihood Program, Supplementary Feeding seeks to achieve Millennium Development Goal No. 1, which is eradicating extreme poverty and hunger.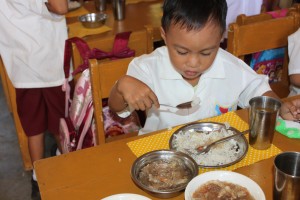 WHAT ARE ITS OBJECTIVES?
The feeding program aims to provide augmentation support through feeding program for children in day care centers.  Also, it aims to improve knowledge, attitude and practices of children enrolled in day care centers, parents and caregivers through intensified nutrition and health education.  In the same manner, it targets to improve and sustain the nutritional status of all target children and refer to health units medical and nutrition-related problems of children.