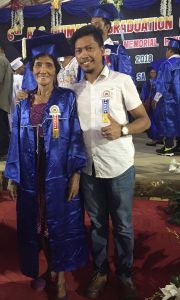 NEW LUCENA, Iloilo – If you have the desire and determination to study, age does not matter especially when seeing this strong and compassionate woman in her early 80s. She is Victoria Nuńez Arceńa of Brgy. Guinobatan, New Lucena, Iloilo, a grantee of the Pantawid Pamilyang Pilipino Program (4Ps) since 2014. Despite that she is a senior citizen, Victoria was able to finish high school through an Alternative Learning System (ALS).
For Victoria, poverty is not a hindrance in fulfilling her dreams and aspirations in life. Through her sacrifices, she was able to produce professional sons in their special fields of expertise. The first son is a public servant, now connected with Guimaras State University, a government university where he was able to practice his professional career for almost 23 years now. The second son was able to fulfill his humanitarian advocacy as a farmer whose two sons were monitored by the 4Ps where Victoria acted as a grantee since 2014. Meanwhile, her youngest son is now connected with Kudu, a large fast-food chain in Saudi Arabia serving different nationalities. He was able to fulfill his dream as a restaurateur being a graduate of Hotel and Restaurant Management.
Life for Victoria is not a walk in the park. She was able to sustain her family with the help of her husband, the late Aquilino Flores Arceńa who also sacrificed a lot working as a baker in Dumangas Bakery from January 26, 1978, to March 18, 2000. A meager income as a baker could not sustain the daily living of the family with three growing kids. So, to augment the daily family income, Victoria ventured by working as a farm planter as far as in towns of Mina and Pototan, both in Iloilo.
The heavy rains and the extreme heat of the sun are not hindrance in doing the sacrifices just to put food on top of the family's table. There are times that she lets her children go to school without any penny but makes a way to bring food during recess or lunchtime. Her children will just walk for almost three kilometers going to school to attend classes and in going back home. Life is extremely difficult but Victoria never surrendered. She accepted whatever the challenges just for her family.
One day, another unexpected turn of events happened because Victoria's eye was struck by a small twig of a tamarind tree. Her left eye was damaged and she could no longer see resorting to her blindness. She suffered a lot in her mental health because she has three small children. A series of medical check-ups worsen the condition of Victoria prompting her to attempt by jumping over the Sta. Barbara Bridge while riding in a public utility jeepney. Thanks to the passengers who helped her calm down.
Prayers and family support despite financial difficulties gave Victoria a clear vision and guidance on how important life is. Her experiences gave her the motivation to reach her other dream which is to finish high school. In 2015, she enrolled at ALS in New Lucena. She is the oldest among the students who enrolled in the said program. She attends classes regularly and sacrificed a lot just to finish high school. Another challenge again happened during the final assessment. She cannot read the printed materials because of her eye condition which resulted her to fail in the assessment.
She was not able to continue the program but, in the middle of 2016, her son who was connected with Guimaras State University invited her to stay with him so she can continue her ALS schooling. Truly, she was able to finish the program and passed the said assessment. On November 17, 2018, a day after her birthday, she graduated and become an ALS graduate learner in the ceremony held at Dr. Catalino G. Nava Memorial High School under the Schools Division of Guimaras.
Victorias's graduation from the ALS never stops her to quest for more educational opportunities to develop her holistically. Her son gave her a surprise tour to four different countries as a gift for the sacrifices she hurdled. Together with her son, they went to Malaysia, Indonesia, Singapore, and Thailand for an international benchmarking tour and educational development. She was able to fulfill her dreams of traveling abroad and seeing the beauty of different countries. Her experienced traveling is very significant to see the world from different perspectives. (Submitted by Municipal Link Ma. Fatima T. Tanque, New Lucena, Iloilo POO)