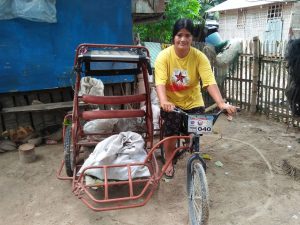 Living in informal settlements often depicts a life of hopelessness and poverty. People in tight situations such as this often worry about their food on a daily basis. However, despite all the hardships brought by residing in the slums, Janice Demontaño is a woman of perseverance and optimism amidst the destitution and the difficulties surrounding her, she managed to provide for her family, rising to the occasion and upholding her responsibilities as a productive citizen, but more importantly, as a mother.
Janice is one of Livelihood Assistance Grant's beneficiaries of Carles, Iloilo. She only finished high school and was not given the opportunity to proceed in college due to a lack of financial support. Janice recounts that her parents would find means to support their family by scavenging, recycling, and trading garbage such as whiskey bottles and copper.
Currently, she resides at Sitio Cambalatong, Barangay Bancal, Carles, Iloilo along with her family. Her husband is a fisherman whose income is also allotted for the needs of their three sons who are currently in high school and elementary.
As all mothers do, Janice would wake up early in the morning to scavenge using her pedicab from 7:00 AM up to 12:00 noon. Before the provision of financial assistance, she would borrow a trisikad from her boss. According to Janice, it was very difficult to scavenge for junk. She is also responsible for all the physical damage on the borrowed vehicle which would be taken out of her profit should any damages occur. That being said, Janice was very grateful when she was identified to be a beneficiary of SLP's Livelihood Assistance Grant.
Janice and her family's life have significantly changed after receiving assistance from the program. Through the LGU's help, Janice already has her own trisikad for her business. She can now easily provide for her family's needs with her daily income of ₱ 250.00 – 300.00.
Aside from being able to pay her existing loans, she now manages her additional enterprise of selling a variety of fruits and vegetables in Barangay Bancal, Carles.
"Naga pasalamat guid ako sang dako sa DSWD SLP tungod may kaugalingon na ako nga trisikad nga hindi na kinahanglan nga magpanghulam. Makapagusto na ako sang akon oras kag lugar nga akon pagakadto-an. Dako guid nga bulig sa amon pamilya kay bangod may oras na kag tyempo sa pag-asikaso sang akon mga kabataan ilabi na guid sa ila module class. Nakadugang man sang amon income sang akon bana para sa amon pagkaon kag iban pa nga mga kinahanglanon." Janice said with hope in her eyes.
As the proverb goes, "Fortune favors the bold." Stories such as Janice's are a testament that despite all the trials and misfortunes, one must always persevere to better their life.### (by Renante Lebuna of Iloilo SLP Provincial Office)