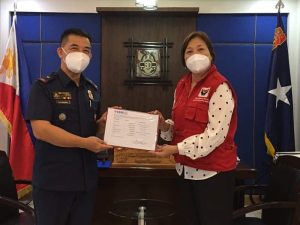 The Department of Social Welfare and Development (DSWD) Field Office VI continues in its collaboration with the Police Regional Office VI in the implementation of programs and projects of DSWD. As the agency reaches areas of different landscape in the region—be it mountainous, far-flung, islands that can be reached only through sea travel—security and safety of the beneficiaries and employees is a paramount consideration.
Regional Director Ma. Evelyn B. Macapobre personally expressed her gratitude to the PRO6 headed by Regional Director PBGen Flynn Dongbo for their continuous support to the agency. With the help of the PRO6, DSWD 6 was able to safely and timely distribute assistance to its beneficiaries totaling P5.06 billion in 2021. RD Macapobre and the PNP director likewise discussed more ways how to further improve the delivery of its services to the people, ensuring that the people's welfare will always be a top priority.
Photo shows Regional Director Ma. Evelyn B. Macapobre of DSWD FO VI in a courtesy call with PBGen Flynn Dongbo, PRO6 regional director.