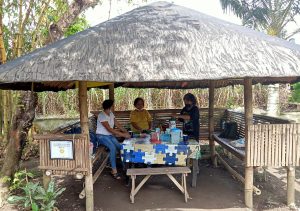 Truly, one's smile radiates to others who see it.
"Nay Myrna" as most of her loyal customers call her is a native coffee vendor. Aside from the quality coffee she serves, Nay Myrna's contagious smile is also what keeps her customers coming back.
Myrna R. Villamil, a widow with one daughter, is a resident of Brgy. La Granja, La Carlota City. In March 2021, she received livelihood aid through the Sustainable Livelihood Program's Livelihood Assistance Grant (LAG) amounting to ₱5,000.00.
She used the grant as additional capital for her coffee shop business. The Ramster Garden Kape opens from 6AM to 9AM and accommodates those who need a little kick to start their day.
To keep her productive for the remaining hours of the day, Nay Myrna then manages her additional enterprise, a sari-sari store, the capital of which comes from her income as a coffee vendor. The sari-sari store sells a variety of grocery items that would cater to the needs of nearby households.
Nay Myrna expressed that despite the challenges in managing her businesses, she still enjoys the work since aside from giving her a source of income, this also allows her to build lasting relationships with the people.###(by Rosemin J. Salinas of Negros Occidental SLP Provincial Office)