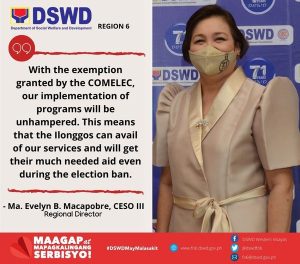 The DSWD Field Office VI assures the Ilonggos of its continued implementation of programs and services amid the election period.
This, after the Commission on Election (COMELEC) granted the Department's petition for the exemption of its routine and normal expenses from the prohibition against release, disbursement or expenditure of public funds as stated under COMELEC Resolution No. 10747.
"With the exemption granted by the COMELEC, our implementation of programs will be unhampered. This means that the Ilonggos can avail of our services and will get their much needed aid even during the election ban," said Regional Director Ma. Evelyn B. Macapobre.
As pronounced by DSWD Central Office in an earlier press release, the DSWD welcomes the exemption as it will guarantee that the implementation of the regular programs of the Department will not be put to a halt.
The same source revealed that the COMELEC approved the exception request without striking out any item. Among the major programs covered by the Resolution are the Pantawid Pamilyang Pilipino Program, Sustainable Livelihood Program, Kapit-Bisig Laban sa Kahirapan-Comprehensive and Integrated Delivery of Social Services, Inclusive and Sustainable Peace (Programs for the Insurgents/Rebels) and Protective Services. The procurement for Information Technology equipment, support to operations, and other administrative services are also exempted from the prohibition on public spending.
During the Comelec en banc session, the DSWD assured the Commission that mechanisms are in place to ensure that its programs and services will not be used for political partisan activities.
Director Macapobre assured that the agency is non-partisan and its programs and projects are implemented without giving due favor to any politician.
"We remain non-political. Our delivery of services shall continue regardless of any political affiliation of the people who need our help," Director Macapobre said./dswd6