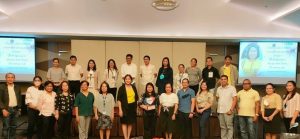 RECOGNITION. The Department of Social Welfare and Development (DSWD) Field Office VI recognized the contribution of the Commission on Audit in the implementation of its programs.
Regional Director Ma. Evelyn B. Macapobre of DSWD FO VI, in the plaque of recognition awarded earlier this week to the head of the COA team assigned at the agency, said that the office has greatly contributed to ensuring the efficiency of the endeavors of DSWD.
Director Macapobre especially thanked State Auditor III Norma Tuares in recognition of her significant contribution for nine years to the implementation of DSWD programs and projects in Western Visayas by promoting transparency and accountability through key audits and inspections resulting in the effectiveness of the programs.
For her part, State Auditor Tuares commended the employees of the agency by going the extra mile in the delivery of social welfare and development programs. "My salute to all the officers and employees of DSWD. When everyone is in their homes during typhoons, DSWD is busy doing relief operations. When most of the people were safe in their homes, DSWD is there braving the Corona virus," she said.
"My assignment at DSWD meant a lot because it gave me the inspiration and strength, not only to my next assignment but also to face life's challenges. My greatest realization is that, no storm is too strong that we cannot surpass, because God is with us in the midst of every storm. To all the men and women of DSWD just bear in mind that when our life is full of storms, be calm because God is amidst us and remain as God over the storm."