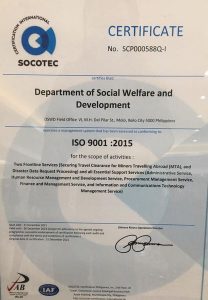 THE Department of Social Welfare and Development (DSWD) Field Office VI received its ISO Certification for implementation of its services earlier today.
The ISO Certification was received by Regional Director Ma. Evelyn B. Macapobre of DSWD Field Office VI from DSWD Secretary Rolando Joselito Bautista and Assistant Secretary Rodolfo M. Santos, DSWD Quality Management Representative.
For Field Office VI, the scope of ISO certification includes Securing Travel Clearance for Minors Traveling Abroad, Disaster Data Request Processing and all essential support services at the Administrative Service, Human Resource Management and Development Service, Procurement Management Service, Finance and Management Service, and Information and Communications Technology Management Service.
The journey of DSWD to be certified to the ISO 9001:2015 Standards Quality Management System (QMS), of which the DSWD here in Western Visayas had taken active participation, was done to ensure that the provision of services to the Filipino people is done with efficiency and effectiveness that are responsive to the needs of the clients.
As a background, the ISO family of Quality Management Systems is a set of standards that helps organizations ensure that they meet customer and other stakeholder needs within the statutory and regulatory requirements related to a product or service. Its 9001:2015 version is more than a QMS since it is also a complete operational tool designed to streamline processes and improve performance, which is complementary to the institutionalization of compliance of the DSWD to the Ease of Doing Business and Efficient Government Service Delivery also known as Republic Act 11032.//dswd6 known as the Republic Act No. 11032. (Photos by Karen Bermejo)