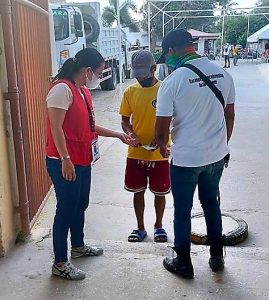 THE Department of Social Welfare and Development-KALAHI-CIDSS recently released P3.2 million to beneficiaries of cash for work project in Semirara, Caluya, Antique.
The amount covers the salaries of 817workers from Semirara's 11 sitios namely Suja, Naga, Cabitin, Villaresis, Sibucao, Feria, Relocation, Pinagpala, Lucena Village, Spring, and Semirara Proper.
Each worker was paid P395 per day for 10 days in exchange for community works identified by the recipient barangays of the cash for a work project.
Worker Gina Atienza said she removed weeds at the roadside in Sitio Pinagpala. She will use her money for their daily needs.
Atienza was grateful to DSWD-KALAHI-CIDSS for allowing her to work and earn money.
Christine Bartolo, also of Sitio Pinagpala was glad after receiving her salary. She is thankful that DSWD has provided them with work even in the shortest period.
Among identified tasks for the workers were the clearing and grubbing of the vegetation along sidewalks. Every day, the workers have to clean 15 linear meters of public streets.
The beneficiaries were grateful for giving them temporary jobs at this time of the pandemic. Most of them will use their salaries for food and other household needs. Others will use it to repair their houses.
The cash-for-work project aims to provide temporary jobs at this time of pandemic and uplift economic activities in the covered areas.
The cash for work project is one of the Program's inclusions under its Disaster Response Modality. Construction of quarantine facilities, purchase of medical equipment were also some of the projects funded under the said modality. #
Photos by: Malu Catolin and Joe Marie Martizano