Municipal Disaster Risk and Reduction Officer Francisco Gallego Jr. assured the public the KALAHI-CIDSS funded isolation facility in Barangay Male, Tubungan will not turn into a white-elephant project even after the COVID-19 virus ends.
Gallego said it can still be useful to the other programs of the local government unit. He did not specifically say whether the town has already an alternative plan for the structure.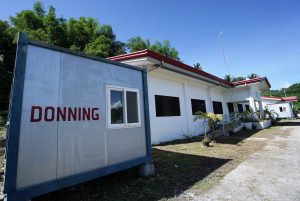 The P5.3 million Covid-19 funds for Tubungan were spent efficiently. The retrofitting and refurbishing of the evacuation center is only part of the package. It also includes sets of communication equipment and medical amenities
The structure which sits on the town's property is the LGUs immediate response to address the needs of the returning OFWs, locally stranded individuals, and residents at the height of the community transmission in 2020.
Gallego, also the concurrent Municipal Environment and Natural Resources of Tubungan attributed the success of the project implementation to the Bayanihan system.
Every office and all concerned people contributed to the realization of these projects that aim to mitigate the spread of the highly contagious disease, he said.
At the isolation facility, there is a swab area and donning sites for the frontliners. They have also 56 handwashing facilities and over 24,000 face masks distributed to the town's residents, he said.
Gallego said with the help of KALAHI-CIDSS, they have new comfort rooms and bedrooms for isolated patients. They have also allotted a place for the health workers.
The poor internet connection and lack of signal for mobile connection was a challenge for the people who are in isolation status in Barangay Male.
Gallego said a radio base system was installed at the isolation facility. Handheld radios were distributed to the different barangay captains and department heads for fast and easy communication.
The Tubunganons are indeed grateful for the projects provided to them at this time pandemic. "I would like to thank DSWD and KALAHI-CIDSS for all the programs and projects which greatly helped Tubungan, " ended Gallego.