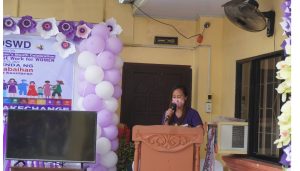 The head of the Regional Center for Women, a facility managed by the Department of Social Welfare and Development (DSWD) Field Office VI, reminded women to never fall prey to abuse.
Remelyn Niadas, head of RCW, said that awareness of four kinds of abuses against women is key in ensuring that women are protected from violence perpetrated against them.
"Awareness that the four kinds of abuses exist is in itself a wake-up call for every woman.
These are physical, emotional, financial and sexual abuses. Knowing about these will prompt a potential victim to seek immediate help," she said.
According to her, early reporting of incidents of abuse usually deter further repetition hence saying the woman concerned.
The reminder came in time as the country celebrates Women's Month with the theme, "We Make Change for Women" and its sub-theme, "Agenda ng Kababaihan, Tungo sa Kaunlaran."
The Regional Center for Women is a residential center for abused women and their children established in cooperation with the Congressional Spouses Foundation and Inc.
The center caters to women and children who were victims of rape, incest, involuntary prostitution, and illegal recruitment, domestic violence and abandonment.
It offers protective and rehabilitative services as well as conducts skill trainings to its residents so that they can learn basic livelihood skills.
Target clients of RCW are disadvantaged women and children who are victims of domestic violence; battered or physically abused; victims of illegal recruitment; victims of involuntary of forced prostitution, victims of illegal recruitment; and children who are victims of neglect and abandonment.
To date, the RCW has 16 residents, eight are women while eight are children.
Cases include Physically abuse/Emotional abuse, 3 clients; Abandoned, 1; Sexual abuse, 2;
and Human trafficking/illegal recruitment, 2.
• Interventions that seek to restore/develop social functioning of the residents from admission to discharge and preparation for family reunification and community reintegration are undertaken.
• Case management. A multi-disciplinary team utilizing social work interventions which include but not limited to counseling, casework, group, work, family/group/individual/therapy etc is mobilized.
• Residential care and rehabilitation program – an alternative form of family care, providing 24- hour group living on a temporary basis to individuals whose needs cannot be adequately met by their own families and relatives over a period of time.
• temporary shelter and protective custody for women victims of violence from further harm or hazardous/high risk situations and maka facilitate healing and recovery of the residents sa rehabilitation program./dswd6