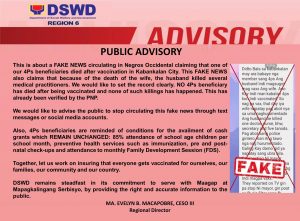 This is about a FAKE NEWS circulating in Negros Occidental claiming that one of our 4Ps beneficiaries died after vaccination in Kabankalan City. This FAKE NEWS also claims that because of the death of the wife, the husband killed several medical practitioners. We would like to set the record clear. NO 4Ps beneficiary has died after being vaccinated and none of such killings has happened. This has already been verified by the PNP.
We would like to advise the public to stop circulating this fake news through text messages or social media accounts.
Also, 4Ps beneficiaries are reminded of conditions for the availment of cash grants which REMAIN UNCHANGED: 85% attendance of school-age children per school month, preventive health services such as immunization, pre, and post-natal check-ups, and attendance to monthly Family Development Session (FDS).
Together, let us work in ensuring that everyone gets vaccinated for ourselves, our families, our community, and our country.
DSWD remains steadfast in its commitment to serve with Maagap at Mapagkalingang Serbisyo, by providing the right and accurate information to the public.
MA. EVELYN B. MACAPOBRE, CESO III
Regional Director