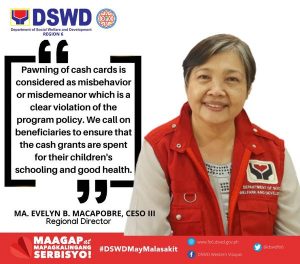 ILOILO City – The Department of Social Welfare and Development Field Office VI (DSWD FO VI) reiterated its warning against pawning of Automated Teller Machine (ATM) or cash cards to all the beneficiaries of the Pantawid Pamilyang Pilipino Program (4Ps) to be used as a guarantee for their loans, collaterals, and other lending transactions.
"Pawning of cash cards is considered as misbehavior or misdemeanor which is a clear violation of the program policy. We call on beneficiaries to ensure that the cash grants are spent for their children's schooling and good health," said Regional Director Ma. Evelyn B. Macapobre, CESO III.
The reiteration came after the Regional Grievance Redress System (GRS) of the program received a report from the Iloilo Program Operations Office (IPOO) on the alleged cash card pawning that happened in Guimbal, Iloilo only last month. The alleged pawning was transacted through a "pawn-runner or middleman" between the beneficiaries and the pawnbroker.
As an immediate action in consonance with the existing GRS protocols for erring beneficiaries, the identified Pantawid households involved were subjected to counseling and were issued warning letters for the first offense. Also, their Landbank accounts were tagged as "locked" in order to avoid future withdrawals of the loan shark or any person holding their cash cards.
The DSWD-6 is also tapping the help of the Local Government Unit (LGU) to recover the cash cards that were entrusted to unauthorized persons. The program is also in coordination with its finance team on what possible options can be made so that these households can have access to their cash grants.
Pawning of cash cards is a violation of the program policy set by the program under the Pantawid Pamilya National Advisory Council (NAC). NAC is an inter-agency and highest policy-making body that provides policy directions and guidance on matters pertinent to Pantawid Pamilya implementation.
Under NAC Resolution No. 20 series of 2014, it is stated that beneficiaries who were complained of or caught pawning their cash cards will be facing the following: first offense, warning by the Local Social Welfare and Development Office (LSWDO); second offense, suspension of grants for one period or temporarily change of grantee to another responsible adult member or in the absence of an eligible household member, the LSWDO, until the suspension period has concluded; and third offense, termination from the program issued by the NAC based on the recommendation of the Regional Advisory Committee. It could be noted that any appeal will no longer be entertained after the approval of NAC.
As of February this year, there are 318, 643 active beneficiaries in the region.//mgc