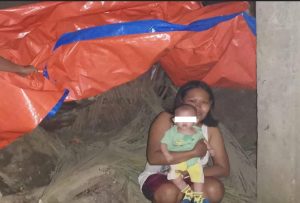 KABANKALAN, Negros Occidental – The house made of light materials owned by Pantawid grantee Michelle Continiente of Brgy. 6, Kabankalan City in Negros Occidental was totally washed out during Typhoon Odette when hit by an uprooted tree making the whole family homeless.
Michelle together with her husband Reynard and five children sought temporary shelter to their neighbor. Through their neighbor's generosity, they stayed there for two days while building their makeshift house out from their damaged house materials they rescued.
Finally, the family transferred to their shanty house after the heavy rains stopped and flood subsided. As an immediate relief, the family received food packs and a free water refill from their Local Government Unit (LGU).
Michelle said the food packs given to them helped them a lot in sustaining their daily food allowance since her husband, a mall merchandiser still has no work because his workplace was also washed out by the flashflood.
It was timely when they received sakoline or trapal from the DSWD on Tuesday. Michelle added they may not be secured with the set up they have now because of limited space but they feel comfortable that their children especially their 4-month-old son won't get sick every time the rain comes.
"It was still a Happy New Year for us knowing that our government is still giving their effort to help us back to our normal days despite the pandemic," said Michelle.
Photo credit: Kabankalan City Link Richelle D. Diopido