UPDATE: As of today, December 26, 2021, at 5 P.M. the Department of Social Welfare and Development (DSWD) Field Office VI has provided a total of PHP 23,710,845.28 assistance to LGUs and families affected by Typhoon Odette.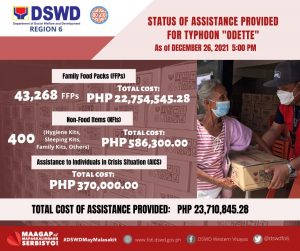 Of the said amount, PHP 22,754,545.28 worth of family food packs (FFPs) for 43,268 families and PHP586,300.00 worth of 400 non-food items (NFIs) were augmented to affected LGUs.
Also, PHP370,000.00 worth of Assistance to Individuals in Crisis Situation (AICS) was provided to the families of casualties and missing individuals.
Meanwhile, the FFPs were distributed to the following: 2,944 FFPs (PHP 1,399,568.00) for Aklan; 6,589 FFPs (PHP 3,532,707.42) for Antique; 4,110 FFPs (PHP 1,863,864.66) for Capiz; 1,800 FFPs (PHP813,604.00) for Guimaras; 6,875 FFPs (PHP 3,172,760.00) for Iloilo; and 20,950 FFPs (PHP11,972,041.20 for Negros Occidental.
The augmentation for the food and non-food items is based on the request of the LGUs while the prioritization is assessed based on the severity and urgency of needs of the affected areas./