The Department of Social Welfare and Development has a ready supply of 10,799 family food packs amounting to P5.2 million packs in its warehouse ready for distribution to families affected by Typhoon Odette.
The number of food packs at the warehouse will increase as the DSWD staff had been mobilized for the repacking.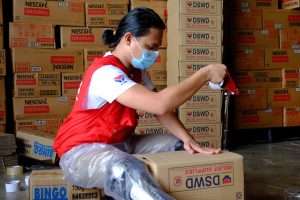 Aside from the available goods at the warehouse, the agency has already prepositioned a total of 14,105 family food packs amounting to P7.2 million to the different local government units for distribution.
As of 8:00 a.m. of December 18, DSWD has already prepositioned 14,105 family food packs at the identified preposition sites in the provinces of Iloilo, Antique, Aklan, Capiz, and Negros Occidental to assist them in their relief operations.
The prepositioning of goods was ordered by DSWD 6, Director Ma. Evelyn Macapobre before the landfall of Typhoon Odette as part of social welfare's contingency measures.
The goods are stored in strategic preposition sites and ready for distribution in all requesting local government units affected by Typhoon Odette.
All the requests of the affected local government units will be assessed by the DSWD Operations Center based on their needs.
These goods will be used as an augmentation to local government units in assisting the needs of the affected families of Typhoon Odette.
DSWD has prepositioned 1,510 family food packs in Carles, Anilao; 1,500 and Lambunao with 1,010, all in the province of Iloilo.
In the province of Antique, 1,010 family food packs were stored in the different preposition sites in the town of Tobias Fornier and 200 family food packs in the town of Barbaza.
In the province of Aklan, 2,720 family food packs were prepositioned at Aklan State University in Banga.
Before the onset of Typhoon Odette, the social welfare department has already prepositioned 1,050 family food packs in Panay and 1,710 food packs in Dumarao, all in the province of Aklan.
In Negros Occidental, 3,435 family food packs were prepositioned in Bago City to address the needs of the affected families.#