ZARRAGA, Iloilo – Eighteen kiosks under the Zarraga's Livelihood Association Kiosk Project formally opened at the Municipal Pantat Grounds of Zarraga, Iloilo the other day in celebration of the Pantat Festival this month.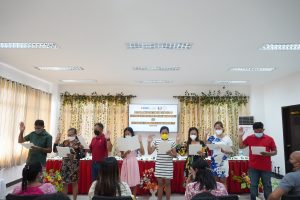 In its goal to help revive the local economy, kiosks have been installed at the Municipal Pantat Grounds to provide space to sell and showcase local products during the month-long activity. A variety of food and non-food items such as ready-to-wear clothes and locally-cultured catfish are now available for consumers.
The kiosk project is an initiative of 295 Livelihood Assistance Grant (LAG) beneficiaries composed of micro-enterprises, vendors, and catfish growers in the municipality. Beneficiaries received PHP14,916.00 last April of this year. Of the amount received, PHP7,500 served as additional capital to their existing businesses. The remaining amount covered the construction and maintenance expenses of the business stalls.
With this initiative, members will have an additional source of income through the earnings from the monthly leasing payment of the kiosks. The association also seeks assistance from the LGU to ensure the project's sustainability.
DSWD Undersecretary Danilo Pamonag led the inauguration of this Kiosk Project together with SLP National Program Manager Janet Armas and DSWD Regional Director Ma. Evelyn Macapobre. Also with them are Promotive Services Division Chief Luna Moscoso, and SLP Regional Program Coordinator Mary Ann Masculino.
On the same day, Zarraga Livelihood Association officers took their oath of office before Zarraga Mayor John Tarrosa, as a symbol of commitment to the institutionalization of their organization.//