Elnie Florino Ismael is one of the recipients of Livelihood Assistance Grant from DSWD-Sustainable Livelihoods Program in Cuartero, Capiz. She is a 50-year-old solo parent and a resident of Población Ilawod. Elnie finished her high school at Filamer Christian College and went to Central Philippine University in Iloilo for her college and stayed there for a year then transferred to the Philippines Women University in Manila. Eventually, she went home and enrolled to the Colegio Dela Purisima Concepcion to become a Computer Technician.
Right after she graduated college, Elnie became a Domestic Helper in Hongkong for one year. When she went home due to irregular work schedule, she again decided to apply for work overseas such as in United Arab of Emirates, Taiwan, and Singapore. However, she only worked for just a month in each said country and when she was in Abu Dhabi, she experienced the running away from her employer.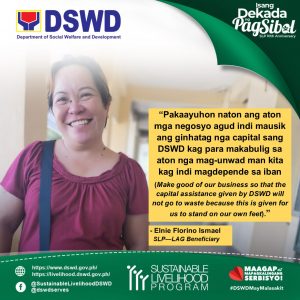 She sought assistance from OWWA and when she was there, she saw the abused and maltreated OFWs.
When she went home, she worked in Manila in an insurance company and met the father of her son who was their company driver hailing from Negros Oriental. Due to their long distance relationship, her boyfriend cheated on her. She decided to go back to her town and raised her child with the help of her family.
According to her, she is lucky enough because she has not felt the heavy weight in raising her child such as the lack of milk and some essential things for her son. To wrap it up, when her child reached the sixth grade, he took an exam in a seminary and after passing all the qualifying requirements, his son insisted to enroll in the seminary with the help of his relatives to fund financially.
Before receiving LAG, Elnie is already engaged in selling foods around their town to support for her son's lodging fee in the seminary. She was informed by Mr. Elmo Holmina, Livelihood Assistance Grant (LAG) Focal, about the said livelihood assistance where she was grateful for because it is a great help for her and to her business.
She wants to pursue her recent business due to her likes in cooking and maybe because cooking is a field where her family is good at. She also uses YouTube app as her reference for her business as the app is filled with many cooking tutorials. She started with a Php 300.00 capitalization in making and selling doughnuts and her income also suffice the spent money for her product.
Nowadays, she gains Php 400.00 from her 2-kilogram doughnuts. Sometimes, instead of doughnuts, she sells langkuga or ginataang halo-halo, a native delicacy, where she can earn up to Php 500.00. She also receives orders for occasions especially during holiday seasons. Overall, her daily income from selling doughnuts reaches up to Php 350.00 and Php 500.00 from selling langkuga.
Her income helps her to be financially independent and help her family. She was also able to buy an oven which cost Php 13,000.00 from her profit in her business and some baking tools. To earn more, she continues to improve her business by her product more tasteful to surpass the taste and expectations of her customer. She also plans to expand her business like getting a space for a snack house and serve short order meals.
Moreover, she learned to be strong and determined in facing life's challenges. She also gives an emphasis about faith because she believes that prayer bring so much help with the help of the Almighty Creator. Thus, she said tha
t in order to have a beautiful success in life just do things right and denounce belittling others.
Moreover, she quoted a message for her family, "Gapasalamat ako sa akon pamilya kay sa ila tanan nga pagpalangga kag suporta, nalampuwasan ko ang tanan nga kabudlay as a solo parent (I am very thankful for my family for all their love and support, I am surpassing the challenges of being a solo parent)."
Similarly, this is her message for her fellow beneficiaries of the livelihood assistance, "Pakaayuhon nila ang anda mga business para indi mausik ang ginhatag nga capital sang DSWD kay ang anda ginhatag para makabulig sa amon nga mag-unwad man kami kag indi magdepende sa amon pamilya (Make good of their business so that the capital assistance given by DSWD will not go to waste because this is given for to stand on our own feet)."
Lastly, she gave thanks to the DSWD sa
ying, "Salamat gid sa DSWD sa ginhatag nga livelihood assistance grant nga isa ako nga nakuha kay dako gid ni nga bulig para sa akon negosyo para mapadako ko ang akon business. Thank You and God bless (Thank you so much DSWD for the livelihood assistance that I have received. This is a big help for my business and in making it grow. Thank You and God bless)!"
Elnies son is now 17 years old and a student of St. Pius X Seminary, a school for those who want to pursue theology and be a priest. Her story shows that it is okay to have failures in life. Just make sure to learn and be inspired from it to do much better in the future. Just like Elnie, she continues playing her part as a mother and became an empowered woman. She shows bravery and a good picture to a world showing how strong a woman can be. /
Mula sa PagSibol, hanggang sa PagSulong!