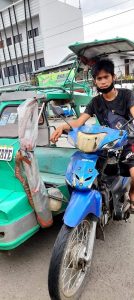 Arian Cris Sina-on Somosa acquired a second hand tricycle out of their profit from the capital assistance provided by the DSWD through its Livelihood Assistance Grant (LAG). The service vehicle is of great help to their small business especially in transporting/hauling variety of vegetables and goods from Iloilo City to Santa Barbara. Arian's family owned a small variety stall selling vegetable and dry goods (panakot) inside the Santa Barbara Public Market.
Arian, who is 29 years old and single is currently living with his parents and his four siblings. Arian's father was a fish vendor before he got sick in 2012. When his father undergone medication and stopped selling, his mother has to provide for the needs of their family alone.
At the age of 12, Arian learned to sell vegetables in the market to help his mother earn a living. He and his four other siblings had to assist their mother in sustaining their small business. They have to work hard to support each other especially in their studies and to sustain the medication of their father who had become paralytic after suffering from stroke. But there comes a time when Arian was influenced by bad companions around him. When he was 15, he learned to use drugs as a stimulant to keep him active in longer hours while working in public market. Fortunately, this has stopped when all identified drug users were made to surrender to the government in 2017.
During the rise of the pandemic, Arian's family was among those who were first affected by the government's imposition of community quarantine. When most businesses were shut down and the operation of transport services were stopped, their only choice at that time was to live with their very limited income.
In September 17, 2020, Arian Cris Somosa was among the 32 PWUDs beneficiaries prioritized by the LGU of Santa Barbara to receive a Livelihood Assistance Grant (LAG) of the DSWD amounting to Fifteen Thousand Pesos Only (P15,000.00) as an additional capital for their vegetable vending business. The Livelihood Assistance Grant is a recovery and rehabilitation program of the government provided to low income families whose source of income were affected by the imposition of community quarantine during the COVID 19 pandemic.
After receiving the grant, Arian Cris purchased various vegetables as an additional stock for their vegetable stalls. Having enough capital he expanded their small business and later ventured on selling other products such as flower pots, fruits and other saleable goods. When flower pots were in its highest demand for the plantitas, Arian Cris was able to gain enough profit that they were able to buy a second hand motorcycle with sidecar that they now used as service for transporting vegetables and other goods in bulk.
Arian used to hire a transport vehicle whenever they purchase goods from Iloilo City and pay higher amount. Arian expressed her happiness that they were able to acquired their tricycle in spot cash. It has a franchise so they can also use it for public transport to earn additional income./
Credits to lsimora and SLP Iloilo