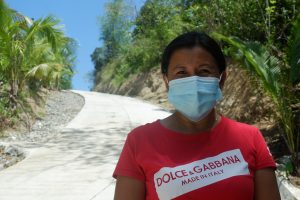 PATNONGON, Antique- The road project connecting villages Villa Salomon and Villa Sal in this town will boost access and productivity of farmers.
The 160 linear road project was road implemented by Kalahi-CIDSS and funded under the office of Deputy Speaker Loren Legarda and Congresswoman of the Lone District of Antique.
Kalahi-CIDSS Barangay Sub-Project Management Committee chairperson Maritess Pacheco says the road project will significantly increase the mobility of the residents especially the farmers.
The Barangay Sub-Project Management Committee is composed of community volunteers from the said barangay and working on the implementation of the project with supervision from Kalahi-CIDSS and the local government unit.
The road project will facilitate the fast movements of farm products like rice, corn, root crops, and vegetables to the town's market and free of bruises, she says.
The terrain going to the farmlands used to be inaccessible especially during the rainy season. It is dangerous and slippery during the rainy season, says Pacheco.
She says people have to carry on their backs their products because of the lack of accessibility. It has been a dream of residents for decades to have better access.
Pacheco says the old passageway was only a track, where only one person and a carabao can pass. Not even an habal-habal can operate in this part of the village because of the dangerous terrain.
This makes it difficult for our farmers to bring their produce to the market. It takes time and money. At times, farmers have to pay for the transport cost and it depends on what commodity is going to be transported, says Pacheco.
Today, with the 4-meter wide road, a small vehicle can reach the farthest part of Barangay Salomon and portions of Villa Sal. People from the next barangay have now easy access, says Pacheco.
The road project would largely benefit the farmers. It cuts short the time in transporting the goods and same time cost of transportation. It also serves as inspiration for the residents of Barangay Sal to work on the improvement of their road access.#