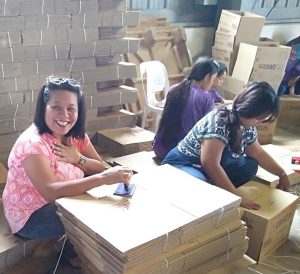 ML Rojane Mitchille is busy stamping expiration date to DSWD relief boxes at the warehouse in Oton, Iloilo.
OTON, Iloilo — She spent more than 23 years working in a Non-Government Organization where volunteerism is one of their top agenda.
For Rojane Mitchille Panes of San Joaquin, Iloilo, volunteering is the most rewarding and satisfying feeling which helps her heals the wounds of loneliness after the death of her husband.
Rojane's recovery may not be easy but with the help of her two strong children, who had been her inspiration, she was able to overcome the trials.
Opportunity knocks Rojane's door when she was hired as a Municipal Link (ML) after Typhoon Yolanda hit Western Visayas in 2013 where Pantawid Pamilyang Pilipino Program (4Ps) was into massive hiring of staff. She is currently one of the MLs assigned in Pototan, Iloilo.
As ML, she is one of those who immediately responded in DSWD calls for volunteers in repacking of family food packs at the DSWD warehouse in Oton, Iloilo for Ursula-affected families. However, days before their schedule, Rojane slipped in the slippery area of their kitchen which caused fractures to her right fingers.
The incident, however, did not prevent Rojane from not going together with the Team Pototan on December 30 which is a holiday. Despite pains, she was able to share her part and do her best through the help of her son's girlfriend who assists her in stamping expiration dates to every box released.
Rodjane said her fractures are nothing compared to those typhoon victims whose other family members died due to drowning while other houses were damaged.
"Mas masakit ang ila inagyan, mas masakit pa sa akon kamot nga nabali. We are still blessed that we are spared from the typhoon. Helping people in need is already automatic with me. I used to it because helping is an instinct," she said.
Rodjane also said that helping in the repacking is also her one way of thanking DSWD for the opportunity given to her two children who are presently working as enumerators of Listahanan 3.0.// (Photo credit ML Corazon Luntao)
Please follow and like us: