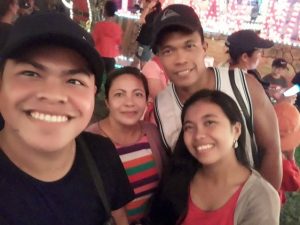 Big smiles from the Esmeria family
BUENAVISTA, Guimaras – If you sow love, you will harvest what you sowed.
This is the story of a laborer man who fell in love with a carenderia woman whom he met while buying his food. Starting then, Paul Bryan Esmeria always wanted to see Elsie and even befriended her. He later knew that the woman is already a widow with one son.
Despite some hesitations from his family and relatives however, Paul Bryan's love for Elsie is pure that he did not mind what people say. He then asked Elsie to marry him and told her that he is willing to stand as the father of her son – Jesse Yahon.
Elsie did not hesitate to accept Paul Bryan's love for she is also in love with him. In 2005, the two got married in a simple church ceremony. Later, they were blessed with a lovely daughter and named her as Aizel Mae.
The couple loves their children equally. Paul Bryan treats Jesse as his own son and provides the best for their two kids. He even doubled his effort as a welder to meet both ends and to send their children to school.
Elsie wanted to help her husband as their needs grow. She started working as a Community Development Worker in 2011. She is receiving a monthly allowance of P1,000 from the LGU and P800 from their barangay.
In the following year, their household became a beneficiary of the Pantawid Pamilyang Pilipino Program. Elsie was elected as a Parent Leader (PL). She is one of the active, thoughtful and diligent PLs in the Municipality of Buenavista since then until the present.
As PL, Elsie attended different DSWD training like Capability Building Training for Parent Leaders, Disaster Preparedness Management Training, and Youth Development Sessions Roll-out Training. She is also acting as a facilitator in the conduct of the Family Development Session (FDS). Elsie is very thankful to the 4Ps because aside from empowering her, the education of their children and the health of their family is secured.
Meanwhile, both their children are also doing well. Aizel is a consistent top student since elementary. Last year, she even joined the Provincial Search of Pantawid Exemplary Children. She was also one of the five students who were trained as facilitators in the Youth Development Sessions (YDS) in their school. Since June 2019, Aizel is helping her teachers conducting YDS at Supang National High School.
On the other hand, Jesse graduated in BS Marine Engineering at JBLFMU-Molo Inc. in Iloilo City last 2017. He availed the school's scholarship program which offered "Study Now, Pay Later." Their batch was called MMPI-HELPS. Jesse started working as an engine cadet l in 2018 and he recently passed the exam in Engineering Watchkeeping.
Now, Jesse is helping his family by sending money monthly for their allowance. He is also sending extra money as they started building their own dream house. (Prepared by Mary Dionne Suamen, ML, Buenavista, Guimaras)
#DSWDKalingaAtPagmamahal
#StoryOfChange
#OnePantawid
Please follow and like us: