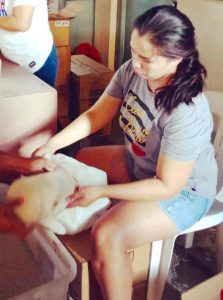 OTON, Iloilo – Gina Torilla has been working at the Department of Social Welfare and Development for more than four years already as a human resource officer under the Pantawid Pamilyang Pilipino Program (4Ps).
Her time between work and family has been always a challenge for her because most of the time she acts both as a mother and father to her kids every time her husband left to work onboard.
Despite her busy schedules, she still manages to be a good daughter to her 81-year-old father suffering from Alzheimer. Gina took care of her father every time she wanted her mother to relax and have her day-off since her parent's house in Tigbauan, Iloilo is just a kilometer away from them.
Five days before Christmas, Gina decided to let her mother took her vacation at her sister's house in Sta. Barbara since she will also take her force leave plus some holidays. Gina is confident that her 15-year-old daughter will help her look after her grandfather.
However, Typhoon Ursula hit Western Visayas a day before Christmas eve. Most of the provinces especially in the northern part were placed under Signal
no. 1 and 2 which caused floods and wider damage of properties in the Panay area.
The DSWD was placed under blue alert. It also calls more volunteers to help the repacking of family food packs at the warehouse in Oton, Iloilo. As a public servant, Gina has to augment the manpower to help maintain the stockpile at the warehouse. She has been compromised between her responsibility to her father and on-call duty.
The problem has been solved when her daughter offers to look after her grandfather. Instead, to work their project at her classmate's house, she was able to convince her other classmates to work their project at their house so they could also help watch her lolo.
Meanwhile, Gina brought her nine-year-old son at the warehouse so she could watch him playing along with other kids outside while she is busy repacking goods together with some staff of the Regional Project Management Office on December 30 which is also a holiday.
"Kung ayaw may dahilan kung gusto may paraan. Call of duty has brought me to the warehouse kahit holiday but we need to work. Also, pasalamat na rin na personally indi affected ng Typhoon Ursula. This is my way of helping others na naapektuhan and act of goodness to thank the Lord for His protection," she said.
Gina volunteerism has been part of her goal as a public servant. Two years ago, she also helped to repack goods for El Niño victims along with her children.//
#DSWDMayMalasakit
#KalingaAtPagmamahal
#OnePantawid
#OneGoal
Please follow and like us: