A TOTAL of 4,650 family food packs were sent for Capiz and Aklan to augment to the resources of Local Government Units.
Family food packs numbering to 1,650 were transported morning of Thursday for the Province of Aklan while 3,000 packs were already prepositioned in Capiz prior to the onslaught of tropical cyclose Ursula.
DSWD Field Office VI sends family food packs to LGUs to provide augmentation. LGUs remain as frontline service providers and responder during crisis and disaster.
"We have sent the family food packs today for Aklan Province. DSWD has sufficient stockpile to provide the help that the LGUs need," said Assistant Regional Director for Administration Evangeline B. Felecio.
As of 2:30 PM of December 26,2019, a total of 2,496 families are reportedly affected by tropical cyclone Ursula. These consist of 9,226 persons from 81 barangays in Western Visayas.
A total of 1,177 families or 4,149 persons are taking temporary shelter in 61 evacuation centers while 1,089 families or 4,983 persons are currently staying with their relatives and friends.
Meanwhile, DSWD is still under Blue Alert and has deployed staff for Aklan Operation Center./ dswd6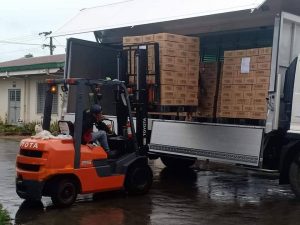 Please follow and like us: