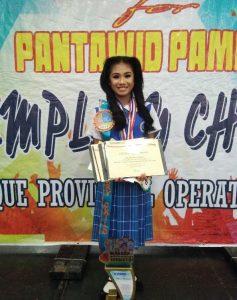 ANTIQUE – The strength of the team is each member and the strength of each member is the team.
This is the secret revealed by the Laua-an Pantawid team as they won back-to-back in the provincial search for the Huwaran Pantawid Pamilya and Exemplary Pantawid Child, both conducted in the province Antique this year.
Laua-an Municipal Link Fernando Dolores said the strategy on how the team came up becomes their success. He said a good team enables one to be productive both as a group and individual.
"This is what our team lived and embodied these ideals that lead us to be successful and achieve something we have not accomplished before," he said.
For Dolores, this has been a very productive year for his team because they have won the two search which led them to be part of the regional finalists.
HUWARANG FAMILY
The Lendayao family in Laua-an is one of the family in the municipality who lived and maintained these ideals despite poverty produce positive results in their daily lives with the help of the program. The family's story being chosen as the provincial winner inspires other families in the municipality that amidst life's struggles and adversities they remained optimistic and cheerful.
The search for Huwarang Pantawid Pamilya held last June 17, 2019, aims to give recognition to the Huwarang family-beneficiary who maintained strong family ties, demonstrated positive Filipino values and created a positive impact in their community where they reside just like our featured family. It also highlights the role of the Filipino family as the core support to building a stronger foundation of our nation.
EXEMPLARY CHILD
Harlen Kling Omadle, 13 years old child beneficiary from Poblacion, Laua-an and a Grade 8 student of Laua-an National High School (LNHS) represented the municipality and awarded the provincial winner receiving the two major awards -Best in Talent and Best in Interview. It was a momentous event for the team since they have dreamed and patiently waiting for this moment.
The Search for Exemplary child was held last August 16, 2019. This activity aims to recognize Pantawid Pamilya children who are role models in their home, community, and school. Whereas they also served as advocates of the program's health and education goals and children's rights.
Moreover, the team also won the provincial search for Best Pantawid Focal in the health category represented by Mrs. Nemia B. Bangcaya, Midwife II of the Laua-an Rural Health Unit.
"All our efforts and sacrifices have finally paid off. With this, the team is even more motivated and committed to do and continue what we have started by giving the best in every undertaking we have," Dolores ended.//dswd/mgc (ANTIQUE POO)
Please follow and like us: