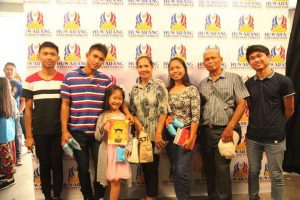 Resulta family of Altavas, Aklan – is this year's regional winner for the Huwarang Pantawid Pamilya Search. The family together with two other past national family winners – Tanutan family of Lemery (2014) and Cabualan family of Leon, (2017) all in Iloilo had joined with them in the National Family Day Homecoming in Quezon City on September 29, 2019.
MANILA – The Department of Social Welfare and Development (DSWD) led the homecoming of the six national winners of the Search for 2019 Huwarang Pantawid Pamilya at the SM City North Edsa Sky Dome in Quezon City during the Pantawid Pamilya National Family Day celebration on Sunday.
The National Family Day with the theme dubbed "Pamilyang Pilipino: Taas-noo sa buong mundo," which recognizes 4Ps families through the Huwarang Pantawid Pamilya Search who were acted as role models in their respective community by complying with program conditionalities, sustain family togetherness, and become active citizens despite the challenges brought about by poverty. The search started in 2012.
In Region VI, two families from Iloilo were already proclaimed national winners in 2014 and 2017. Gemma Tanutan of Lemery has been a solo parent. She serves as a mother and father of her five children. Currently, three of her sons are already working while the two are still schooling.
On the other hand, Remia and Romulo Cabualan of Leon, Iloilo are both rebel returnees. They go back to the fold of government after they started building their own happy family. The couple blessed with five children of which three were able to graduate from college and now working while the other two are still in high school.
Meanwhile, Resulta couple Nida and Rio from Altavas, Aklan is this year's regional Huwarang Pantawid Pamilya champion. The couple was blessed with five children. Three of their children were already graduated from college while the two are still schooling. The couple maintained an organic vegetable garden in their almost one-hectare farmland. This garden became the demo farm of the municipality and other non-government organizations.//dswd
Please follow and like us: