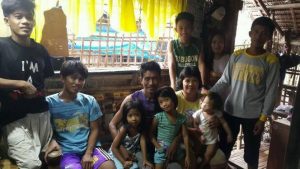 Caspillo family
TOBIAS FORNIER, Antique – Life's hurdles are just anywhere it's up to the family to be able to surpass it with unity. The Caspillo family is proof that whatever problem they may encounter in life, together they will always succeed in battling these difficulties.
Josefa and Tobias are both native of Diclum, Tobias Fornier in Antique. Josefa graduated her secondary education at Diclum National High School while Tobias had finished his two-year course of Marine Transportation at John B. Lacson Maritime University, also in this province. The couple blessed with six children of which, four are boys and two are girls. The couple struggled financially having six children to feed daily and the school expenses. Tobias did seafaring for a couple of times but eventually quit his job because he wanted to be with his family to see his children as they grow.
Instead, Tobias engaged in fishing. He worked as a fisherman and at the same time he makes "pukot", "laya" and "palaran (fish nets) for other fishermen in their community and nearby barangays. Meanwhile, Josefa is a dressmaker. She borrows the sewing machine of their neighbor and gives a part of her earned money as rent for the said machine. The couple are helping one another to earn a living in order to send their children to school.
The household became a part of the Pantawid Pamilyang Pilipino Program in 2012. The couple's burden in sending their children to school has been lessened by the cash grant they are receiving every two months. Some part of the cash grants goes to the school expenses of their eldest daughter Faith Marie in college who took Industrial Technology at the University of Antique. The financial constraints were experienced but not that burdensome like they use to be before when they were not yet in the program.
Josefa became a Parent Leader in 2017. She is one of the best PLs in their town. She was able to relay instruction from to office to the beneficiaries properly. She secures all beneficiaries in her area by submitting updates on time with complete attachments. Josefa is also part of the BUHAI BURI an association under the SLP Program who weaves buri hats, coin purse, and bags.
The family is known to be helpful. There are problematic children who usually sought refuge at their home and they welcomed it. They are also known to be a family that resolves the problem with love for each other as their top priority in order to make a good decision and the right choices. The children themselves took part in helping their family. On Saturdays, Francis would go fishing with his father while the sons Kae and Joebie will do the construction and carpentry jobs. On the other hand, Joshua would tag along with the sound system owned by a neighbor which is being rented during fiestas and other occasions. During school days, the children are not asking for "baon" from their parents because they have their own money already. They also seldom ask for money for school fees because they budget their own earning from their "extra jobs" every weekend.
TRIAL
The household experienced hardship when Faith Marie got pregnant after graduated from college. This saddened the whole family because they were hoping that Faith Marie will be the one to send her other siblings to school. Despite the trial, this made the family even closer and they dealt with the problem with all the love they could give to Faith Marie. The family accepted Faith's situation and learned from it. Faith Marie also made up with what she did, after giving birth to her child she was able to look for a job in order to support her child and her family.
At present, Faith Marie has her own family with two children. She is also working in one of the private companies in Antique but she is still supporting financially her family. She even loaned an amount to be able to have a big motor fishing boat for her father as a source of their income.
GAINING SUCCESS
Francis Xavier finished a two- year course of Marine Transportation in the University of Antique. He is processing his documents to be able to work but for the meantime, he had also put up a small motor fishing boat from his earnings working in hardware after graduation. Kae Marie is presently enrolled in Electronics at the University of Antique. Joebie Khier graduated from K-12 and seldom works as a laborer for now.
He is waiting for his brother Francis to have a good-paying job in order to enroll in college. Keith Joshua is presently enrolled in Grade 11 at Diclum National High School while the youngest child Princess Kate is in Grade 1 at Diclum Elementary School.
The family is living a more comfortable life wherein they have their own source of income, their children are gaining success from their studies and they became more united and stronger in facing difficulties in life. They have learned to adjust whether they have less or more of everything and hoping to be of help to others too.//dswd/mgc (Submitted ML Tobias Fornier, Antique POO)
#MaagapAtMapagkalingangSerbisyo
#DSWDMayMalasakit
#StoryOfChange
#OnePantawid
Please follow and like us: