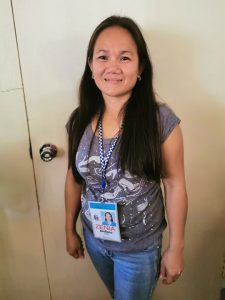 BUENAVISTA, Guimaras – Life of a porter along Buenavista wharf is not easy. The recent Guimaras sea tragedy which
resulted in the cancellation of pump boat trips along Guimaras-Iloilo Strait caused much loss on the daily income of the Arellano family.
Zenia Arellano of Brgy. Sto. Rosario, Buenavista, Guimaras considered this incident as a trial in their life. She said life has its ups and downs but what is important is the safety of each family member.
Although, she is thankful that during the incident, her husband was not able to work because of his arthritis.
For her, trials in life made her a stronger person as what she is right now. From her childhood, she surpassed life's challenges. One of which is to finish her education as a self-supporting student since she is the 7th child among the 10 siblings. Her parents are both farmworkers and their earnings cannot suffice their daily needs for this big family.
She was born in Barotac Viejo, Iloilo but raised in Barrio Obrero, Iloilo City. In 2000, she earned her vocational degree in computer secretarial at Guimaras State College. On the same year, she married to Marlon at the age of 22 after four years in a relationship. They were blessed with three children.
Luckily, their family has been included in the Pantawid Pamilyang Pilipino Program where Zenia was chosen as a Parent Leader for six years already. Being a Pantawid beneficiary is a big help to them especially for the health and education of their three children. All of their children have been performing well in school not only in getting good grades but also being consistent honor students especially her two girls who are in Grade V and Grade 10. Their eldest son is turning the first-year college this August. Marlon together with their children is also very supportive with Zenia. They attended FDS and other Pantawid related -activities.
In 2015, their family has been nominated by the Municipality of Buenavista to represent in the Provincial Search for Huwarang Pantawid Pamilya. They won 3rd place in the search during the Manggahan Festival.
Another opportunity came when there was a job vacancy at the LGU. With the recommendation of the assigned Municipal Link Mary Joy Bartonico, Zenia was hired as a utility worker with a salary of PHP260 per day from Monday-Friday except for holidays. This July, she is very proud that she is a part of the municipality's workforce for two years now.
Zenia's income helped them financially aside from the irregular income of her husband as a porter.
For two years, she has been regularly paying her SSS contribution as self-employed in preparation of her family's future.
"Taking steps slowly through hard work and dedication in everything you do and most especially trusting God wholeheartedly, can bring you happiness and success in life," Zenia said advising her co-beneficiaries. //dswd/mgc (Buenavista MOO, Guimaras POO)
#DSWDMayMalasakit
#MaagapAtMapagkalingangSerbisyo
#StoryofChange
#OnePantawid
Please follow and like us: