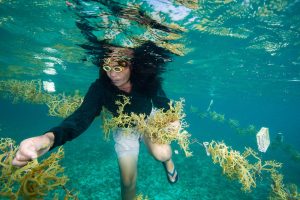 CALUYA, Antique – In a remote Island of Caluya in Antique, Gavilo family chose to live their simple life in a small nipa hut situated in Barangay Imba. The couple started their love story when the two of them met in Cavite, where Bessie works as a Day Care Worker while Victor makes use of his carpentry skills as his source of income. Despite their busy lives, both their paths had crossed and at that very moment, they felt in love with each other.
The couple was blessed with five children namely Lian Grace, Michelle, Victor III, Eric Jade, and Lester Jay. Thus, despite the varying attitudes and characters of their children, they considered them as their life and source of strength. All their strivings in life are towards their aim of giving their children a brighter future.
Currently, two of their sons Victor III and Eric Jade are pursuing their education, while the youngest, Lester Jay is a Grade 10 student. Though sometimes, their son's shows naughtiness, at the end of each day love and respect prevails in each one of them.
"Our children are the source of our strength and inspiration why we keep going every day," said Victor.
The family's main source of income is through "Tambalang" or seaweed farming. Through such, they can make an above-average income which is enough to support the growing needs of their children, especially that their two sons are now in college.
The couple considered their efforts in seaweed farming as their "floating bank account", for in due time they can choose to expand their crops for them to earn enough in preparation for their children's education. Bessie also has her small store where she sells crude oil and rice, in such ways she can supplement their daily income.
Although, a fairy tale story will never be completed without a dark and sad part and Gavilo family had their own story to share. There was a time in Gavino family's life, where they seemed to have faced a storm. It was the time when Victor became ill for about a year.
Since Victor was the primary person responsible for sustaining their farm, the family seemed to be paralyzed for no one could do the job. Thus, during those times Bessie had to assume the roles and responsibility of her husband. She was able to learn everything about seaweeds farming and was able to make their family survived. Bessie had doubled her efforts for she acted both as the mother and the father of the family.
Despite the challenges they had faced, Bessie was thankful for his sons were there to help her out and give her a hand. Their son, Victor III, decided to give up his studies for the meantime to help her mother on their farm.
Moreover, Gavilo family was once a victim of an illegal and inhumane demolition last December 2007 where they were forced to vacate their home without prior notice. Also, they were one of the Typhoon Yolanda victims in November 2013 which caused severe damaged to their house and livelihood.
During such years, their family has encountered a lot of sufferings which somehow made them even stronger and resilient that despite everything they were able to bounce back and gain control of their lives. Because of such, Gavilo family was featured by Steve De Neef, a photojournalist working in a Coral Triangle region who uses his images and stories to encourage conservation of our blue planet.
A year after, Victor was able to recover and get back on foot. After the trials they had encountered, the family became stronger and unified that despite everything they were able to stay together against all odds. Victor III was able to go back to school and is currently a 4th-year college student at San Jose Occidental Mindoro. But during summer vacations, he devotes his time in helping his parents in farming.
With Victor back on his health, Bessie was able to become an active member of the community. The family has started to become a member of Pantawid Pamilyang Pilipino Program last 2011 and Bessie was elected as Parent Leader in their Barangay. She was able to lead her members to abide by all the conditionalities set by the program, as well as to become a role model of the community. Aside from the monthly Family Development Session, Bessie leads a meeting to discuss other matters that will help their lives improve as members of the program.
If there is one thing that Gavilo family had learned in everything that they had been through, it would be that "Alone we can do so little; together we can do so much". For in all the struggles that they were able to surpass, all they had was each other and God as well. And they believed that whatever happens today and soon, they will fear nothing; for they have each other and above all God is with them. /dswd/mgc (Writers: MLs Emile Octavio and Jimmy Quanico, Caluya, Antique POO)
#DSWDMayMalasakit
#MaagapAtMapagkalingangSerbisyo
#StoryOfChange
#OnePantawid
Please follow and like us: