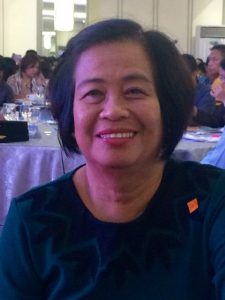 ILOILO City — The Department of Social Welfare and Development (DSWD) Field Office VI, being the Vice Chairman for Response of the Regional Disaster Risk Reduction Management Council VI, remains committed and assures the continuous effort in disaster response and rehabilitation operations in the region.
This was assured by the Assistant Regional Director for Administration (ARDA) Evangeline Felecio during the Regional Resilience Forum conducted by the Office of the Civil Defense (OCD) at Smallville 21 Hotel in Iloilo City today.
"The month of July is declared as the National Disaster Resilience Month (NDRM) pursuant to Executive Order No. 29. Although it is August 2, we believe that this is a spillover of a series of events for the NDRM. Of course, resilience amidst disasters and crisis should be a battle cry not only in the month of July but at all times. Thus, this endeavor today is never outdated. This is well-communicated by our theme which says "Kahandaan sa Sakuna't Peligro para sa Tunay Na Pagbabago," said Felecio.
Felecio also said that the theme is aligned with the DSWD Organizational Outcome 3: Immediate Relief and early recovery of disaster survivors ensured and Organizational Outcome 2: Rights of the Poor and vulnerable sector promoted and protected. We give value to every Ilonggo's life. The safety of every Juan counts. The safety of his wife, children boys and girls, the members of his family who are senior citizens, the Persons with Disability, the women, and the solo parents. Everyone matters.
She added as a key preparedness strategy, the DSWD ensures that it maintains a stockpile of family food packs for any eventuality—be it a man-made or natural disaster. The Department has a Quick Response Team, members of which are ready for any eventuality. Should the need arise, the Department has preposition goods ahead of time so that the Local Government Units can readily avail the augmentation.
It can be recalled, that Western Visayas has a history of being badly hit by disasters. Yolanda ravaged Panay Island and Negros Occidental. Typhoon Frank claimed lives when floods that seemed to come from nowhere penetrated many homes while Boracay Closure displaced a lot of families and workers.
"Through all these, we have rose above the storm. We were able to bounce back and found our strength despite all the challenges. We suffered but we also learned. We also became stronger and experienced. These disasters taught to us to always get back up no matter what. Indeed, resilience is a trait of many Filipinos. When some say give up, we simply don't give up. We kneel and pray. We try once more. We strive. Then, we conquer," she elaborated.
Felecio added that DSWD Field Office VI will always be steadfast in providing augmentation to the LGUs. We shall continue in working with partner National Government Agencies so that every individual and family gets helped, as if we are extending our arms to our fellow Filipinos to surpass disasters and calamities. The men and women of DSWD are passionate individuals who mostly put fore service to mankind first than themselves.
The Assistant Regional Director also lauded all the efforts of the LGUs and partner NGAs in disaster preparedness, response and in ensuring preparedness and ushering Filipinos into being resilient in making an impact in reducing or at most erase the trauma of a child during a calamity, a pregnant woman remains calm and does not transmit to her fetus the nervousness; a grandparent gets protected; women and girls are protected as well –thus prevent unnecessary casualties and giving a better world, a smile, a relief and simple joy to a fellow Filipino.
"Yours is an endeavor that surpasses not just this generation but the next generation and the future generation to come. Congratulations for taking on the difficult task! Your efforts are not for naught," said Felecio.//dswd6/mgc
Please follow and like us: