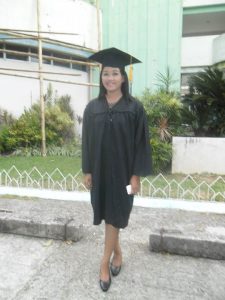 CAPIZ — Being a Registered Social Worker (RSW) is her greatest achievement for Debra Ann Reala of Guimaras. She never thought that she will reach that profession despite the challenges she encountered during her college years. Social work is neither her first choice nor her first course. She doesn't even know the course when she entered Central Philippine University (CPU).
She took an Information Technology (IT) course when she entered school in 2009-2010. Debra was a student-athlete during her first year in CPU. She was included in the women's volleyball team of the school campus. For her, "volleyball is life" that's why she focused more on playing. Unfortunately, she reaps what she sows when she failed in her two subjects. She stopped for one semester because of frustration.
Later, she decided to take a social work course. Why social work? For her, Debra doesn't even know what is Social Work.
"My former classmates in IT encouraged me to take Social Work since they also shifted to that course. Social work that time is known for the students who failed their subjects and wanted to shift course. Since I wanted to go back to school, I tried the course," Debra said.
She added that in her five years in college was very challenging as she tried a lot to embrace and love the course. Many temptations and pressures happened but she managed to overcome it. Luckily, she finished the course in 2014. On the same year, she also passed the board examination for Social Worker.
In 2014, Debra got her first job as a Community Empowerment Facilitator under the KALAHI CIDSS: NCDDP of the Department of Social Welfare and Development (DSWD) until December 2015 as they ended their contract to the Department.
Two years after, she was hired as Community Empowerment Facilitator under the Local Government Unit of Jordan, Guimaras until April 2016 as she also ended her contract. Debra tried her luck to other agencies for she is also aiming to have a permanent job. She tried to apply at the DSWD where she was hired as a Social Welfare Assistant under the Pantawid Pamilyang Pilipino Program (4Ps). In her first-year assignment, she was deployed in Tapaz, Capiz in 2017.
On the following year, she was hired as a Municipal Link (ML) and assigned in the neighboring town of Dumalag. Depra said the transition of the position is difficult. She said from the monitoring of Pantawid beneficiaries in school to handling the overall coverage of the program to your assigned barangays.
"I was so lucky when I got the best team in Dumalag. They assisted and helped me adapt to the deliverables and responsibilities of being an ML. In my nine months as an ML in Dumalag, I was contented, happy and willing to extend extra public service to help those who are needy," she added.
Depra added that as the program became law, she hopes that she will still be in the program and be part of the development of the poorest of the poor 4Ps beneficiaries. She said that seeing these people improve their quality of life is not only their success but her mine, too.
"To serve them wholeheartedly without discrimination is my main purpose as a person, as a social worker by profession. I will be forever grateful to the people who are with me and helped me reach what I have right now. The Pantawid Pamilyang Pilipino Program teaches me to be more patient, flexible and more mature in dealing with different types of people. Being a social worker and a Municipal Link will always be in my name. DEBRA ANN P. REALA, RSW AT YOUR SERVICE.//dswd6/mgc
#MaagapAtMapagkalingangSerbisyo
#DSWDMayMalasakit
#StoryOfChange
#OnePantawid
Please follow and like us: