Barangay Tapacon is the farthest barangay from the town proper of Bingawan, Iloilo. Their everyday experiences were not easy – transporting their crops and other products was hard; going to the town proper for medical check-ups was hard; sending their children to neighboring barangays to attend school was a lot even harder for them.
Tapacon came from the name of a sitio where there were fields of tigbaw (tiger grass) that reveal bounty of fishes just by treading or stepping on it. Hence, Tapacon or 'to step' in English.
"Kis-a, gina-isip namon nga angay man ang ngaran nga tapacon kanamon kay naba lang amon sitwasyon kung pangabuhi ang istoryahan. Daw sa lupa lang kami nga pwede tapakon sang madamo nga problema (There were times that we believed that the name Tapacon suited us since we had poor living conditions. We were as lowly as the ground that we can be easily stepped on by many problems)," says Evelyn Monegro, Chairperson of Tapacon Barangay Sub-Project Management Committee.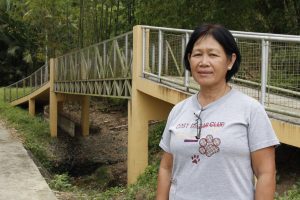 Their proximity problem somehow made them feel like they were outsiders – unprivileged, disadvantaged, and often discriminated. True enough, the community could not remember many times when they got help from anyone. They did not expect it anyway because aside from the barangay being located in the farthest part of the municipality, the roads going there were difficult. Reaching Barangay Tapacon also meant steep roads, unpredictable terrains, muddy paths, and a flooding creek.
The creek was the most preferable and the easiest access for the residents to reach other barangays, with the roads leading to the town proper. What made it difficult to cross was the frequent overflowing of the water especially during heavy downpours. The flooding problem posed a great threat to the residents especially for their children who had to cross the creek every day just to attend school.
Barangay Tapacon has an elementary school but back then, it only catered students up to 4th grade. The residents would need to enroll their children to other schools outside Tapacon to continue their elementary education.
They always worry about the fact of how the children would need to walk a fair distance every day to reach the school but not as much as how they worry about them crossing the creek especially when it rains and the water overflows.
"Kauna kung magbaha sa suba, gina tumba namon ang mga kawayan nga ga tubo sa kilid kag amo ra ang gamiton nga latayan para katabok sa suba. Delikado gid gihapon pero kilanlan namon ngitaan ti paagi para katabok ang mga bata kag maka eskwela (When the creek overflows, we used to cut bamboo poles growing by the creek and used them as a temporary bridge so that the children could cross and go to school. It seemed dangerous but that was our only choice)," relates Evelyn.
Aside from that, another problem was how they would transport their products. They needed to pay a hired vehicle to haul their products and get it to the town proper to be sold. Whenever they have nothing to pay for a vehicle, they would carry their products and cross the creek which was a difficult task as well.
The community was more than determined to do whatever it takes to improve their situation. They have one thing in mind – to provide a safe and secure environment for their children and for the whole community of Tapacon.
In 2012, after the Municipality of Bingawan was granted the funding through the Kalahi-CIDSS (Kapit-Bisig Laban sa Kahirapan – Comprehensive and Integrated Delivery of Social Services) of the Department of Social Welfare and Development, Tapacon was one of the barangays that were prioritized.
Considering their proximity and their disadvantaged situation, Tapacon was granted first, a Farm-to-Market Road which allowed them safe travel and easy transport of goods; then a Day Care Center so the children would never have to cross the creek just to attend school; a Barangay Health Center for an easy access to medical help and health care; the Footbridge that eased the worries for the students crossing the creek; and the ongoing construction of a 1 Unit – 2 Classroom elementary Building to aid the barangay's need of extra facilities to accommodate students from 1st to 6th grade.
"Grabe gid ang pasalamat namon sa Kalahi-CIDSS tungod nga halos tanan nga amon gina handum lang kauna, natuman na kag tulad, nadugangan pa gid. Salamat gid hay bisan ano kami ka rayu, nalab-ot kami ka mga programa kang gobyerno (We greatly thank the Kalahi-CIDSS for giving us everything we needed and even more. We only dreamt about them but they made it a reality for us. Thank you because how far we may be, the government strived to reach us just to improve our life situation)," expressed Evelyn.
After the completion of the Kalahi-CIDSS projects, improvement and progress in Barangay Tapacon became very evident. In fact, there are already motorcycle owners in the barangay that provided easy transport of their crops and other products and the students who used to cross the improvised bamboo bridge only use it occasionally for they are already provided with enough facilities at school to allow a comfortable and conducive learning environment.
However, it was not just the Kalahi-CIDSS alone who moved to realize the project. The project became successful because of everyone's support and willingness to help. More than anything, it was by the passion and dedication of the residents why the project became successful. The empowerment and the grown confidence and esteem for being trusted of the project implementation is what fueled them to help in the realization of the project.
The Kalahi-CIDSS project implementation also became a way for the residents to have a close relationship with each other. Upon understanding the concept of Sama-Samang Pagkilos Nang May Malasakit that Kalahi-CIDSS is upholding, the people learned of working hand in hand with an open heart. They dedicated most of their time and passion to the project without waiting for anything in return. Their actions as a team was not only the reason why they succeeded, it was also them moving forward for a common goal.
"Sang una, gina isip namon nga ang ngaran nga tapacon naga pakita lang kung ano kami ka pigado, kung ano kami ka nubo nga pwede tapakon sang mga problema sa kabuhi. Pero paagi sa DSWD, gin taw-an kami inspirasyon kang Kalahi-CIDSS nga magpadulong lang nga magpadulong kag indi mag atras (In the past, we used to think that the word tapacon was reflective of our barangay's lowly status– isolated, unprivileged, disadvantaged – reflective of how we have a humble position in the society, vulnerable to being stepped on by shortcomings," Evelyn relates.
"DSWD gave a new meaning to our tapacon. Through Kalahi-CIDSS, we were inspired to always take the step to move forward and never falter)," she adds.
Indeed, every community needs to realize that being stepped on by life problems is not always a bad experience – because these hurdles they faced together, bonded them as one community moving forward with a single purpose and one spirit of camaraderie/xzyservento/kalahi-cidss/dswd6//.
Please follow and like us: