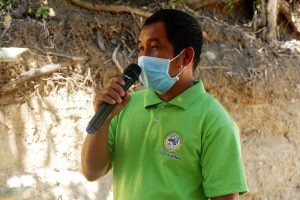 PATNONGON, Antique- Roads, bridges, schools, and post-harvest facilities built in this muscovado-producing town are not mere monuments of development. They demonstrate empowerment and improved local governance in the various barangays.
Villa Salomon Barangay Captain Edwin Pacheco says Kalahi-CIDSS molded him to become more spirited and resilient in pushing for the village's progress. "Kon ano ako ka dya ina tungod sa pagdihon ka nakon sang Kalahi "What I am today is because of the formation of Kalahi-CIDSS to me)."
Pacheco says being the village chief is not an easy task especially in this time of the pandemic where his leadership is confronted with problems on aid distribution. "Kon wala kita naanad daw ma resign ikaw (If you are not used to it, you would probably resign)."
Pacheco feels proud of his experience as a community volunteer which also sent him to a local governance position at the barangay level. He says God planned his election as the barangay captain.
Pacheco was a former Kalahi-CIDSS community volunteer before he was elected as village chief of Villa Salomon in 2019.
His effort of giving free community service to the community was magnified when he was chosen as the regional awardee for Best Community Volunteer under the Improved Local Governance category in 2016 and national awardee in the 2017 Kalahi-CIDSS 3rd National Bayani Ka Award in 2017.
Pacheco says he is already used to face challenges in implementing projects under Kalahi-CIDSS as he and his group took the lead in the construction of three projects which includes a school building in Villa Salomon.
Recently, Villa Salomon also completed a 160 linear meters road project implemented under the Kalahi-CIDSS.
Pacheco shares that he has extended his support to the community volunteers in pursuing the road project and its completion serves as a reminder that the barangay officials and community volunteers can work together when they share the same aspirations to confront the issue of lack of access to the farmlands of the people.
The village chief continues to serve his constituents as he widens his horizons in public service by ensuring community participation in all government projects especially the Kalahi-CIDSS.