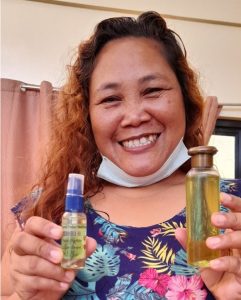 "Ako si Melanie Nepomuceno sang Barangay Cunarom, Lambunao, Iloilo. Daku gid ang pasalamat ko nga nangin kabahin ako sang SLP Training sa Medicinal plant production, processing, and marketing sadtong tuig 2016 kay daku gid sini ang nabulig sa amon pangabuhi. Diri ko nabal-an kon paano maghimu sang massage oil kag ointment. Diri ko man nakilala ang nagakalainlain nga herbs kag kon anu nga balatian ang mabulong sini. Madamu na nga mga tawo ang akon nabuligan kon maglain ang ila pamatyag gamit ang akon massage oil. Kaluy-an hasta subong nagapadayun sa pagbakal kag pag gamit sang akon massage oil kag ointment ang kutob sang naka agi gamit sini. Tungod sang akon training sa medicinal plant production, processing and marketing, nahatagan man ako sang kahigayunan nga makatraining sa massage therapy paagi naman sa pondo sang lgu lambunao. Kag nagamit ko gid ang akon massage oil sa akon pagpangmasahe.
Salamat gid sa programa sang dswd. Ang akon natrainingan akon gid magamit samtang ako nagakabuhi kag akon man ini mapasa sa akon mga kabataan. A million thanks halin sa kaibuturan sang akon tagipusuon. Ang akon motto "try and try until you reached it". Kay ang akon training nga ini sa herbal gintry ko gid hasta maabot ko gid ang tanan. Sang nagkuha ako sang duha ka licensure exam bilang massage therapist, ang hambal ko sa mga upod ko. Itry naton ang tanan , waay man sing may madula sa aton. Sa kaluoy sang dios nakapasar ako kag nangin licensed massage therapist ako. Salamat gid and God bless!"
– Melanie Nepomuceno of Brgy. Cunarom, Lambunao, Iloilo
Licensed Massage therapist
Melanie Legada Nepomuceno is mother of three children who are all in school. Her income in massage oil and ointments had augmented their meager income. She was among the 50 beneficiaries who availed of the Skills Training on Medical Plant Production, Processing, and Marketing of the DSWD's Sustainable Livelihood Program conducted in 2016.
After the training, she received toolkits such as steamer, stainless bowl, stove and gas tank and casserole among others. They were also provided with allowance during the duration of the training. Melanie made use of her acquired skill in producing herbal oils and ointments and sell it to her friends. They were delighted with the effects of her products especially the massage oil that they repeatedly bought it from her. Many have tried her product.
Until now she receives orders from teachers, students of swimming class, massage therapists and walk in clients. When Melanie was given the opportunity to avail another training in Wellness massage thru an LGU funded program she grabbed it and later become a licensed Massage Therapist after she passed two examinations by the DOH./
credits: lsimora and SLP Iloilo Province Team