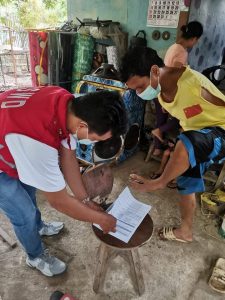 Si Marjo P. Lardera o mas kilala bilang si "Amazing Popong" isa ka PWD nga may-ara inborn bone impairment, wala siya sang mga kamot apang ini indi naging sablag para maghimakas sa kabuhi. Ang iya gid pangabuhian o negosyo amu ang electronics shop kung sa diin natun-an niya ini paagi sa TESDA Training NC II in Electronics. Isa sa iya produkto amu ang videoke machine kag incubator.
Dugang pa sini may ara pa gid siya sang mga negosyo sa pagpadamu kag pagbaligya sang kuneho, manok, pagwielding kag pag-ubra sang wooden furniture kag plant stand. Ini natun-an nya paagi sa visual na pamaagi gid lamang. Amu ini ang rason kung nga-a ginatawag sya "Amazing Popong" bangud sa pihak sang iya kasaypanan, bugal niya ginaubra ang iya produkto gamit ang iya mga tiil.
Amu man ini ang pamaagi niya kung sa diin sa nagsari-sari nya nga pangitan-an may ara gid siya bisan isa sa ila ang makahatag income kag may panggasto siya sa ila pang adlaw-adlaw. Si Popong nagapakita kung sa diin isa sya ka "amazing Person with Disability (PWD) but with a lot of abilities". Bangud sini iya man nasuportaran ang iya pamilya bilang isa ka responsable nga bana kag amay sa iya pamilya.
Ang pangabuhian ni Popong ang isa sa mga dako gid naapektuhan sang COVID 19 Pandemic. Bag-o pa ang lockdown siya naga kita sang Php 10,000 – Php 15,000 kada bulan sa iya mga proyekto. Apang sa pag-abot sang pandemya may ara gid tion nga wala sya makita sa iya negosyo. Nagadepende lang sila sa relief goods kag dako man iya pagpasalamat nga siya naging benepisyaryo sang Social Amelioration Program (SAP).
Sa iya pag-umpisa bangon sa iya negosyo nga dako gid ang halit tungod sang pandemya nag-abot siya sa tiun nga nagpangutang sa bombay para ikapital sa iya negosyo. Amu man dako ang pagpasalamat niya kung sa diin siya ang nakabatun sang Livelihood Assistance Grant sang Sustainable Livelihood Program nga Php 11,250 bilang dugang kapital sa iya electronic shop. "Dako gid ang nabulig sang LAG kay may kwa-an na ako revolving fund kag kapital kung sa diin nakagwa ako sa bombay", testimonya ni Popong. Si Amazing Popong ang isa sa 80 ka nahatagan sang LAG sa munisipyo sang Concepcion, Iloilo sang Pebrero 8, 2021.
Ang Livelihood Assistance Grant (LAG) ay isa ka klase sang Social Amelioration Program (SAP) nga nagahatag bulig pinansyal sa qualipikado nga benepisyaryo sang Sustainable Livelihood Program (SLP) nga ang ila nga negosyo ang naapektuhan sang pagdedeklara sang community quarantine bangud sa COVID 19. Ang tinutuyo sang LAG amu ang mabalik ang economic losses kag ini magamit bilang seed capital sa pag-umpisa liwat sang negosyo.
"Inspirasyon ko ang akun pamilya labi na gid ang isa ko kabilog nga bata. Kinahanglan ko gid suptan ang iya buwas damlag amu na ako nagahimakas. Kung may kulang man sa parte sang akun lawas pero siguraduhon ko gid nga indi ako magkulang sa pamilya ko." Marjo "Amazing Popong" Lardera./
(story summitted by SLP Iloilo Team)