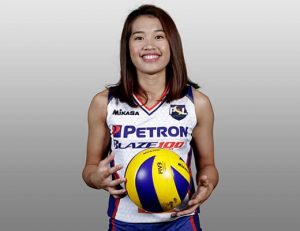 TALISAY, Negros Occidental – "Life is like a volleyball being spiked: sometimes, it goes up but sometimes, it goes down. The harder you fall, the higher you bounce."
As a varsity volleyball player, Bernadeth Pons of Brgy. Zone 10, Talisay City considered her life just like this quote.
Bernadeth is a daughter of 4Ps grantee Merigen and pedicab driver Roberto who both work hard to earn a living to provide the daily needs of their family.
The family has become a member of Pantawid Pamilyang Pilipino Program for almost five years already. Though they are receiving cash grants her parents don't depend on it instead, they are raising livestock at their backyard so they have something to sell in case of an emergency situation.
As the eldest child, Bernadeth strived hard to finish her studies. The grants they received from the program helped them a lot in their schooling. She joined the volleyball varsity team of her school since elementary until high school. Through this, she was offered a full scholarship for her college education granted by FAR Eastern University-Manila.
At first, her parents hesitated to send her to Manila because it is too far, but then they realized that it is practical to accept the scholarship because if they decided to send her to the nearest University they will need money to finance her daily fare.
So they accepted the offer and Bernadeth took up Bachelor of Science in Business Administration Major in Financial Management.
Being away from her family is very hard for her, plus the pressure of being a full-time student while being a varsity player. She endures the hardship of training and the sleepless nights of studying just to maintain her grades. There are times that she really wants to give up but then she instills in her mind that if she quit she will not be able to help her family. All she ever wanted is to ease the burden on her parents and this will be possible if she will graduate.
Her edge being a Probinsyana has opened her the opportunity to become a member of the University Athletic Association of the Philippines (UAAP) where she leads as the captain volleyball team of Lady Tamaraws under their university.
She became one of the UAAP's brightest stars. Bernadeth joined the PETRON blaze spiker team as a professional volleyball player playing in the Philippine Super Liga (PSL). She is the team outside spiker.
Through volleyball, she bagged many medals from different competitions. Among these are gold medals from All-Filipino Conference and Beach Challenge Cup, silver medals from the Invitation Cup, Grand Prix Conference, and Philippine Super Liga, among others.
Now that she earned her college degree, she has a bigger opportunity to help her parents and two siblings. She may be a star now but she still remains to be a humble Pantawid beneficiary from Talisay City, inspiring others to strive for their dreams.//dswd6/mgc (Negros Occidental POO1)
Please follow and like us: