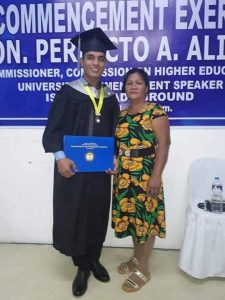 John Wooden with his mother during the graduation day where he was awarded as magna cum laude.
SAN DIONISIO, Iloilo – Failure will never take me if my determination to succeed is strong enough. You learn more from failure than from success. Don't let it stop you. Failure builds character. Achieving stars and ambitions in life is like "The Train to Busan" movie which lots of obstacles, hindrances, and struggles along the way but success is waiting at the end.
The ESGPPA grant gave hope to those less fortunate students with high potential and excellent in academic performance. Magic came with a twist of determination when I became its recipient after not being able to enroll in college immediately after graduating from high school because my family could not afford to send me to school. All my problems disappeared when the door of opportunities opened as I enrolled in Iloilo Science and Technology University (ISATU) in Iloilo City.
The first day of school was a surreal experience. I had butterflies in my stomach. I did not know anybody. I did not know where my rooms were. It was a day full of new information: new students, new classrooms, new offices and facilities of the university.
A couple of days later, I was bombarded with solving and mathematical processes, calculations, safety practices, familiarization of electrical tools, measuring gadgets and equipment. Nonetheless, I made sure things happened according to plan. Wisdom, perseverance, and enthusiasm drove me to do better. The calculator, dedication and determination were my companions in all of these. At the end of my first year, I received academic and leadership awards.
ESGPPA helped me a lot. This was the chosen vessel for my molding and training. The ISATU community, especially the Student Affairs Office, gave us extra-curricular activities and programs to enlighten and educate us to break the chain of poverty, to elevate the standard of living of my fellow scholars. In return, I studied hard and joined various university organizations that gave me opportunities to attend symposiums, training, seminars, do community services and gift-giving activities in the university and other parts of Iloilo City.
After four years, graduation. I reaped the initial fruit of my hard work. I was awarded as the College of Industrial Technology's Most Outstanding Graduate and Shop Honors. I had various campus leadership and community service awards. I graduated Magna Cum Laude in Bachelor of Industrial Technology Major in Electrical Technology.
I won as Sangguniang Kabataan (SK) Chairman in Brgy. Batuan, San Dionisio last May 2018. I also took the Licensure Exam for Master Electrician and hold the title as Registered Master Electrician. I have God, my family, and classmates to thank for their support in these sweet successes.
For me, things work out best for those who make the best of how things work out. Thank you, Department of Social Welfare and Development, for ESGPPA that paid for all my tuition and fees and subsidized my expenses and allowances during my studies, for giving my family the opportunity to uplift our standard of living, for education and knowledge attained, and for moral and spiritual values developed in our family. I am John Wooden, my journey in life is the best example of a story of change./dswd//mgc (Submitted Ebony Cayabyab, Ml San Dionisio, Iloilo POO)
#MaagapAtMapagkalingangSerbisyo
#DSWDMayMalasakit
#StoryOfChange
#OnePantawid
Please follow and like us: