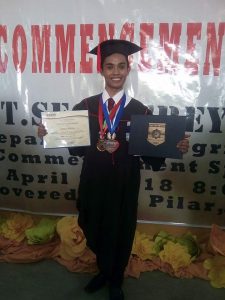 Dione during his graduation day – one of the happiest moments of his life.
DON SALVADOR BENEDICTO, Negros Occidental – "Life is a dream for the wise, a game for the fool, a comedy for the rich, a tragedy for the poor." -Sholom Aleichem
For Dione Bautista Taberos, 26 years old, of Purok Ipil-Ipil, Brgy. Bunga, Don Salvador Benedicto, he believes that life is full of unexpected things. It is a mixture of pain and joy.
"We need to sacrifice and experience painful things but in the end, we will reach happiness through a successful life," he said.
THE STRUGGLES
When I was in elementary, we used to walk almost five kilometers in going to school every morning and going home every afternoon. My school allowance every day was only P2.00 and that was allotted for my dish.
I have experienced cleaning "sa mga dumi ng kambing sa bahay ng former Barangay Captain namin". He gave me P10.00 or P15.00 and I'm happy that this small amount helped me to have an income. Also, during my vacant time, sweeping in the principal's office helped me to have free food. Through my efforts, I graduated with flying colors in elementary.
To pursue my dream, I continued my high school even it's hard for my parents. My school allowance that time was only Php 25.00. The Php 20.00 is for my transportation while the remaining Php 5.00 is for my food allowance since we only have one secondary high school located in the town proper. Every Monday morning, my bag was full of sayote which I brought from the town to sell it to our teachers and neighbors so that I have an extra income for my other school projects. Also, I accepted laundry from our neighbors every weekend. They paid me Php 150.00 which is a big help for my daily allowance for the next school week.
I am always preoccupied with all my daily undertakings but despite that, I study hard and joined different school activities. I was appointed as Supreme Student Government (SSG) President in our school. I experienced more challenges and struggles during my administration which taught me to be a good leader and voice of all the students.
During our graduation day, I received an award as 1st Honorable Mention and a leadership award from our former Vice-President of the Philippines Jejomar Binay. It was unexpected but I am honored and privileged.
Here's come the summer. No more breaks for me since I need to double my time to look for extra income in preparation for my college. I accepted works at the rice field, "init-ulan hindi inaayawan" to help my family to sustain our family needs. My parents, due to extreme poverty once told me to stop since I already graduated in high school and they can't send me to college.
I neglected what my parents told me instead I let myself busy looking and applying for any scholarship programs. Since my family was included in the Pantawid Pamilyang Pilipino Program (4Ps), I am blessed that I am qualified to be an Expanded Student Grant-in-Aid Program for Poverty Alleviation (ESGP-PA) grantee after I passed the examination. I am happy that I could continue my college but on the other side, I am sad because I need to leave my family to study at Capiz State University in Pilar, Capiz.
It is my first time to be away from my family but I need to do it for my dreams and most especially for them. Then, I took a Bachelor of Science in Social Work. It is hard to live there because I don't have any relatives to take care of me during the time that I am sick but I need to be strong to pursue my dreams.
Despite my situation, I kept my situation from my family for them not worry. Sometimes my family contacted me and asked; How are you? Do you still have money? As always my answers are "Yes". We have allowances from our scholarship but sometimes due to the several projects and activities, it can't sustain until such time we can receive our next allowance. We need to strategize to survive. So, in the afternoon of our school days, instead of buying snacks, together with my board mates, we went to the school field and get mango to relieve our hunger and to save some of our remaining allowance for our school expenses.
If I don't have class, I wash the dishes and helped in serving customers at our school canteen just to have free food. Sometimes, if I don't have viand, I pick some camote tops from our small vegetable garden and made it as pickled camote. Despite hard-ups, I remain active in school. I am still joining different organizations.
SUCCESS
On April 2, 2018, is our graduation day, while we're going to march, my old pair of shoes was torn apart since I am using it for two years. I paused for a while, fixed it and relax because I know this is the most awaited moment in my entire life. I heard my name was called as Cum Laude. At then, I felt that all my efforts, sleepless nights, crying moments, and sacrifices finally paid off. Aside from academic award, I also received several awards like Civil Service Eligibility/ CSC, Cong. Emmanuel A. Billones Sr. Award of Excellence, DSWD medal of Excellence, CAPSU Institutional Medal of Excellence, Deputy Speaker Fredeni H.Castro Congressional Medal of Excellence and Phil. Red Cross Service. I know that my battle is not yet finished, I still need to face my ultimate battle, the board exam.
I studied hard and the rest, I surrendered it to our almighty God, I prayed, and I asked His guidance, wisdom, and knowledge to answer every question in the board exam. The result was released last July 31, 2018, I said to myself, Lord I claimed that my name will be in the list of 2018 Social Work passers and He granted me. Two weeks after, since I am a person who has full of determination, dedication and always setting goals, I look for a job before the year ends. I'm busy applying to different NGO's and Government Agencies. I'm blessed that there were three agencies who qualified me but I choose to work at Department of Social Welfare and Development (DSWD) Field Office VI as an Exigent Technical Staff/Exigent Special Concerns/Referrals that will be assigned at Office of the Regional Director. That was my first job. It was my birthday gift because they hired me on the day of my birthday.
This time, I bought a new pair of shoes after I received my very first salary.
On May 2019, I was challenged again when I was offered to transfer in SWAD Antique as a Social Welfare Aide in AICS. I am a bit nervous since I will be again in a new environment but who I am to decline the offer? I accepted it, and now by God's grace, I am still working and connected with DSWD.
I believed that we're living in a world that is full of problems, challenges, and criticisms but all we have to do is to face it and make these experiences as one of our tools to be stronger and braver individual.
Problem is not always a problem, sometimes it's a blessing in disguise and I'm happy that I was born being poor because I know that there's always the brightest light in the future if you strive and work harder. Sabi nga nila "Kung inapanganak kang mahirap, hindi mo 'yon kasalanan, pero nagging kasalanan mo lang 'yon, kapag namatay ka pa ring mahirap". We must break the cycle of poverty like what I am doing now.
I am thankful and forever grateful that I am once a Pantawid beneficiary and now helping also my fellow Pantawid and as well as the non-Pantawid through my work especially in their crisis situation.//dswd/mgc (Prepared by Stephanie Rae Gomez, ML, Negros POO1)
#MaagapAtMapagkalingSerbisyo
#DSWDMayMalasakit
#StoryOfChange
#OnePantawid
Please follow and like us: