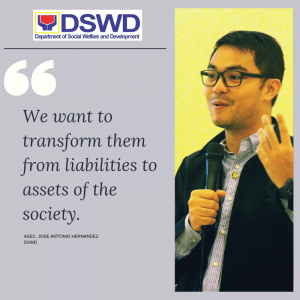 SOME say their faith guided them out of drug addiction. Others say they had to undergo rehabilitation program with support from their families. For 214 persons who used illegal drugs, one way of finding their way out is through volunteerism.
As of this writing, Persons Who Used Drugs (PWUDS) have signified their intent to join the Bayanihang Bayan Program of DSWD. Of the number, 140 are from Sta. Barbara, Iloilo; 50 from Iloilo City; 17 from Malay, Aklan and seven from Boracay, Malay, Aklan.
Thirty have so far started rendering service by packing goods for disaster survivors in Aklan Province.
The desire for volunteerism is a result of the orientation activities in various LGUs in partnership with DSWD. The main component was an orientation on Yakap Bayan Program, one its mechanisms is engaging them into becoming Bayanihang Bayan Volunteers.
Y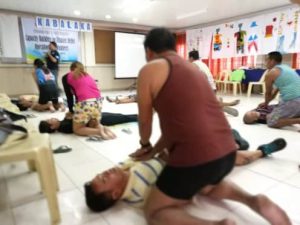 akap Bayan is the department's way of welcoming back drug surrenderers into the fold of society. It is a rehabilitation and reintegration program for drug surrenderers which is implemented within the framework of the mandate as the head of the disaster response cluster of the National Disaster Risk Reduction and Management Council (NDRRMC).
Yakap Bayan is implemented in partnership with different government agencies. The program is composed of graduated interventions which primarily aim to create community leaders out of the former drug dependents.
As one of the mechanisms in helping the PWUDs under the Yakap Bayan Framework, the PWUDs are encouraged to be part of the Bayanihang Bayan Program. It is a volunteer program that also intends to build strong relationship between government and private sectors in implementing government programs and services. It provides exciting opportunities to individuals, groups and organizations to extend voluntary service along social welfare and development, as well as disaster operations.
"After the orientation in their LGUs, we are actually happy with the turnout because a significant number among them signified that they want to be volunteers. We want them to be inspired and become volunteers along disaster risk reduction. We want them to feel that they have an important thing to contribute in the society," said Dela Gente.
"The direction is turning them from liabilities into assets of the society," he added.
As to the help of the LGUs, he said, "We are appreciative of the receptiveness of the Local Government Units concerned. They responded actively to the initiative. Indeed, these people need another chance in life, we have to help them in the restoration of their social functioning and become responsible members of the society," said Dela Gente.
INTERVENTIONS
So far, among the measures implemented by the agency are Orientation on Yakap Bayan which was conducted by the agency spearheaded by the Central Office. Assistant Secretary Jose Antonio Hernandez himself went around the region to rally the call for making the PWUDs "assets of the society" instead of being "liabilities."
Other interventions are orientation on Bayanihang Bayan Program and Volunteer Registration; Sustainable Livelihood Program (SLP); Capacity Building through Sessions on Values, Reorientation, Positive Discipline and Team Building Exercises; Medical Assistance through Aids to Individuals in Crisis Situation (AICS); Food for Work Program and Capacity Building on Disaster Relief Operations and Response.
Records of the agency reveals that 746 PWUDs have so far availed of these interventions.
Under SLP, 84 individuals have received livelihood assistance to establish an Automated Laundry Shop, which is now operational and earning P20,000 to P30,000 per month. These same beneficiaries were trained on Values Reorientation, Positive Discipline and Team Building.
"We are actually happy with the turnout because they are active in managing their own business, the Laundry Shop. At the same time, they are learning how to manage a business and they are busy with running its operations," said Dela Gente.
On Medical Assistance, a total of P700,500 were provided to PWUDs and their respective families. This was used for their rehabilitation.
On Food for Work, 50 persons benefited from Food for Work Program amounting to P180,000. For 10 days, they rendered work long mitigation and prevention of hazards that might cause disasters. Specific activities include canal dredging, gardening, vegetable fencing and garbage collection.
In the same manner, 46 PWUDs participated in the Capacity Building on Disaster Relief Operations and Response. They were coached on developing competencies on emergency survival skills, disaster preparedness and resilience./dswd6
Please follow and like us: